Shipping criterion for Higashine Cherries
Only Higashine Cherries equal to or better than excellent/large are shipped.
We have determined the shipping and cultivation criteria to protect the Higashine Cherry brand. You can obtain high-quality cherries by selecting Higashine Cherries because they are screened to select cherries that satisfy the grades and sizes described below among the cherries grown in Higashine City and parts of the adjacent cities and towns.
The shipping criteria for Higashine Cherries are excellent/L or better; products that do not satisfy the criteria cannot be shipped.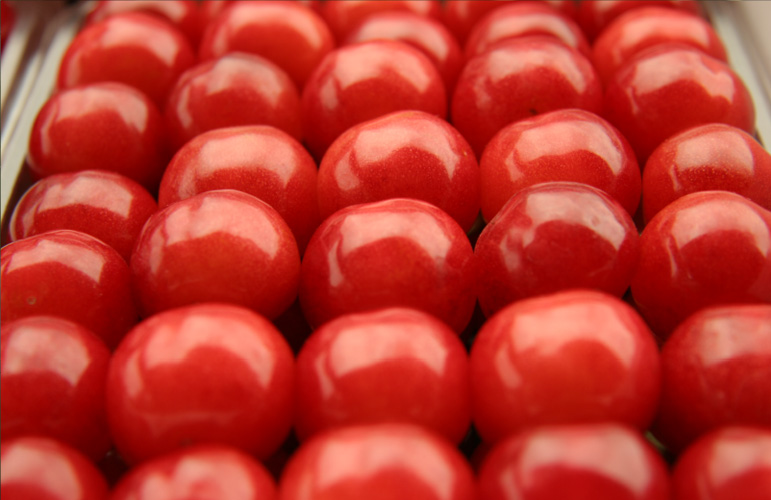 Grade for protect quality
Grade determined by the colored proportion is an important criterion to protect quality.
Higashine Fruit Kingdom Fruits Industrial Cluster Association has standardized the cherries and classified their grades into excellent, very good and good to deliver high-quality cherries to consumers. Among them, the cherries to be shipped as Higashine Cherries shall be in the top grade: excellent. The colored area shall be 70 percent or more and the color guideline is shown in the photograph.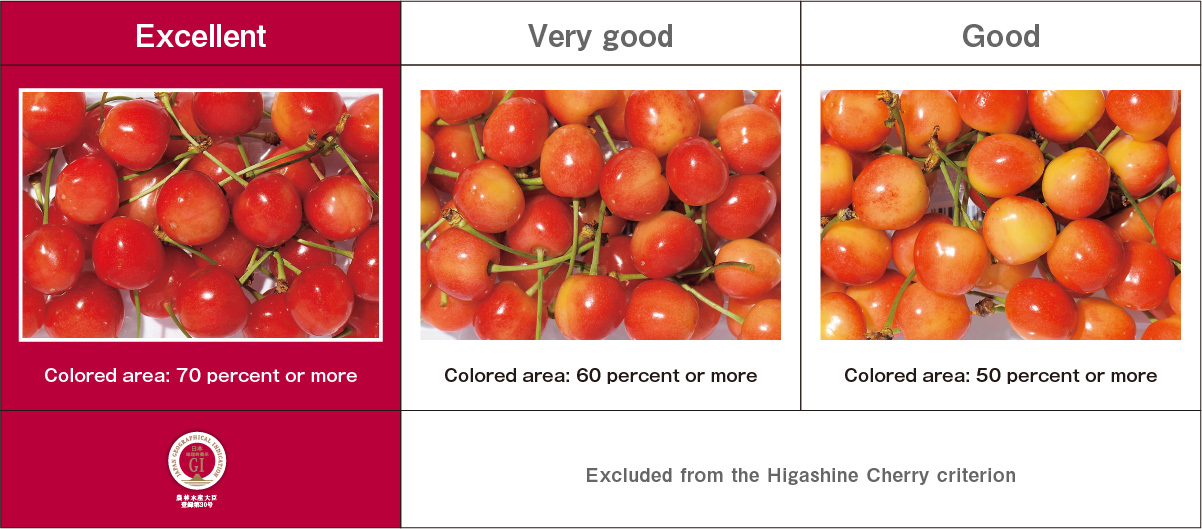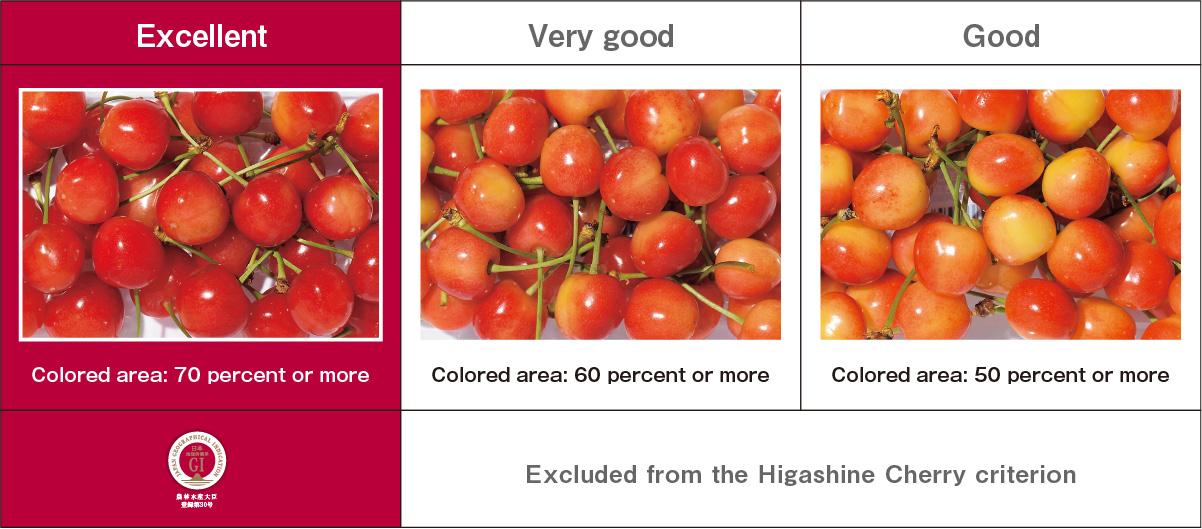 Cherry size determined by diameter
The cherry size is determined by diameter, not weight.
Harvested cherries are sorted by their quality one cherry after another. Cherries are sorted by the colored area criterion and by their sizes with a plate that is called a criterion plate and has holes of all sizes. Yamagata Prefecture decides that the diameters of cherries to be shipped as fresh cherries to be eaten raw are size M (19 mm) or more, but only size L (22 mm) or more of cherries are shipped as Higashine Cherries. The diameter is the same as a 5-yen coin.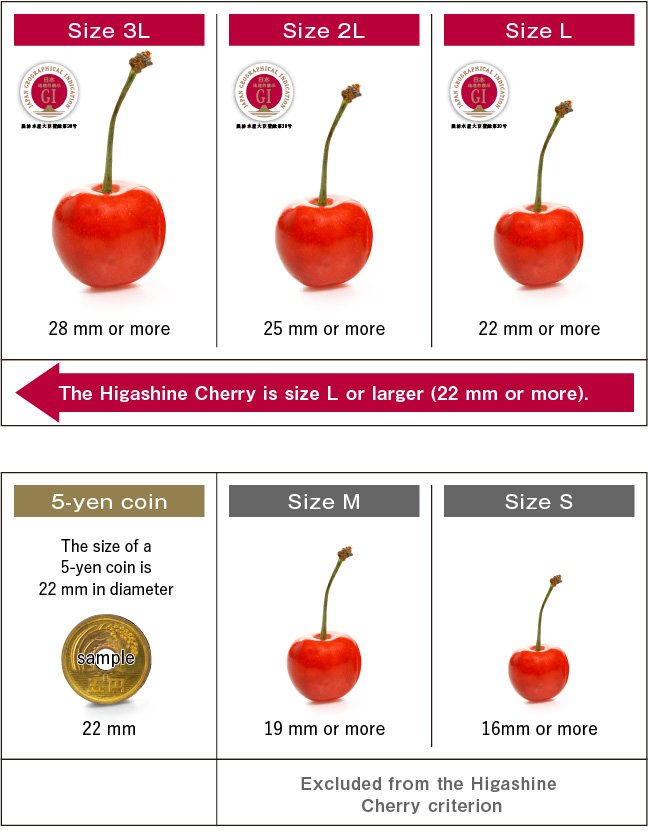 Cultivation criterion for Higashine Cherries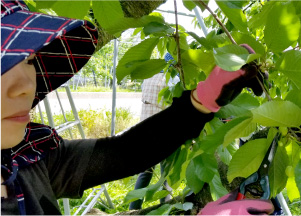 We shall endeavor to observe the following in Higashine Cherry cultivation:
① The planting quantity shall be 10 to 15 trees per 10 ares in the garden.
② Cultivation shall use Weather Protection Facilities to protect fruit from cracking.
③ Nets that protect fruit from birds shall be stretched over the side of Weather Protection Facilities to protect fruits from wild birds.
④ Reflection sheets shall be placed under trees to promote fruit coloration.
⑤ Disbudding, fruit thinning and leaf thinning shall be conducted to promote fruit enlargement.
To the shipment of Higashine Cherries
Cherry production calendar (products cultivated in open ground)
February
Pruning
Cut unnecessary branches and produce trees (effective for stable fruition and quality improvement)
March
Disbudding
Bud thinning (restricting fructification is effective for promoting fruit enlargement and improving the sugar content) (Average working time is about 10 hours per tree)
May
Pollination
The period suitable for pollination is 3 to 5 days after flowering. Overlapping the flowering time with another breed is important because no fructification occurs between the same breeds.
May
Plastic sheet covering
Covering plastic sheets on the roofs of the houses to protect fruit from the rain
June
Fruit thinning
Fruit thinning (restricting fructification is effective for promoting fruit enlargement and improving the sugar content)
(Average working time is about 8 hours per tree)
June
Leaf thinning
Leaf thinning (making the part exposed to sunlight larger is effective for promoting fruit coloration and enlargement)
Place reflective material under trees (making the part exposed to sunlight larger is effective for promoting fruit coloration)
June/July
Harvest/Selection/Packing
January to March
Resting period
Late April to early May
Flowering season